Film Independent (home of the Independent Spirit Awards and the Los Angeles International Film Festival) took it upon themselves to interview PERIODS. creators Anna Martemucci and Victor Quinaz and try and make some sense of what is going on at PERIODS. Films.
SCREENSHOT: PERIODS.
I got my introduction to PERIODS. from filmmaker Abe Greenwald who you may remember from his Screenshot. But this isn't about him, this is about PERIODS. One of the most inventive, funny and truly charming web series I've seen.  I credit the cast and crew and their spirit for making it as enjoyable to watch as it must be to create.  Let's find out from clever husband wife team Victor Quinaz and Anna Martemucci.
Describe PERIODS. in 140 characters or less
Anachronistic period pieces with costumes a show choir would die for. (We actually asked the internet and that's what they told us).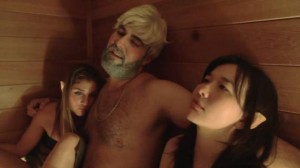 PERIODS. is one of the most inventive ideas I've ever seen executed. How did you come up with it?
ANNA: We've been doing it about 2 years. After Victor mentioned pilgrims, the idea of people dressed up as pilgrims talking to each other like the vapid young Hollywood kids on reality shows (I was nursing an obsession with The Hills at the time) was too funny to us not to try to do something with it. And once we had Dasha on board for costumes, we knew it would look brilliantly pilgrim-y. The most fun thing though, was on the day, discovering that Phil and Alison had this crazy ability to recreate what felt like a real-life break up onscreen. That was mesmerizing to me.
VICTOR: A sweet filmmaker friend of ours offered us a house on a farm for a weekend and suggested we make a horror film. Not a huge fan of horror movies I half-joking retorted "how bout we make a period movie instead? About pilgrims. WTF?" It was later, when we started actually thinking of making a short together, that my wife and co-creator, Anna, came up with the idea of making the short incredibly anachronistic. We ended up shooting on a rainy Saturday in Prospect Park without much of even an outline and ended up having so much fun with everyone that we said 'when can we do this again?' And then we did it again and again. It's a bit of an addiction for us, each idea trying to top the one before it. It wasn't until the second film in the series (Edith Wharton's Ethan Frome) that we were able to use our friend's farm upstate and it wasn't until our third film (Before After) that NY Mag's Vulture blog called us a comedy troop and deemed PERIODS. a web series.
How did you know that people would be into it? What gave you the confidence?
V: Confidence? I'm not even so sure people actually like them. We just keep making them. In all honesty, they work in a myriad of ways; we use them to develop our skills and confidence in all areas of filmmaking. They allow us to try things and not be so precious about every single choice. And they've enabled us to really find a collective comedy voice as unfunny as that sounds. Not to mention I get to put my little brother, Phil, in all sorts of unflattering getups. It really appeals to the big brother in me.
A: I am very confident in Victor's ability to direct and Giovanni's ability to shoot beautifully and edit, etcetera. Phil being what I consider to be a genius of an actor and improvisor was a not-so-surprising surprise. So there wasn't confidence that people would like what we made, but there was a belief that we had an awesome team in place (also including Alison Fyhrie and Yamin Segal) and that this one small thing was funny in a way we hadn't seen before; just meaning that we had never seen people dressed as Pilgrims talking in the way that people talk now. For me it was about wanting to see that one funny little thought brought to life. And then once we did it, it became a fun addiction to making more.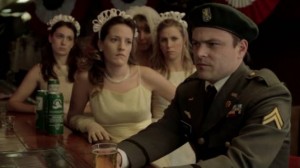 Ok funny guy and gal, but what do you do to put food on the table?
V: My day job was directing commercials which enabled us to make PERIODS. which led to making a feature film based on PERIODS. which is now my day job. Dogs and cats living together, total anarchy.
A: I'm a fit model. Which means I help clothing companies make their clothing fit better. With the aid of my body. I work by the hour, so luckily I often have time to write and buy hair accessories and/or wigs and/or conquistador helmets that don't arrive in time for short films.
You have very cool jobs. I'm jealous. I imagine lots of people are.  How do you get people to keep coming back when they walk around bemoaning the fact that you have way cooler jobs than they do?
V: This is the one thing that boggles my mind and keeps me up the nights we drop a new short.
A: Victor's great on this end. He's a passionate Internet promoter. Also, having everyone who is involved with making the series be genuinely excited about it and want to promote it online helps a lot. Having a friend who has a giant, rabid following of fans on twitter (cough-cough-Quinto) really helps.
V: I can't even really say there is a strategy or specific thing we do. Our hit counts aren't even as high as like a Vblogger that "life-casts" and puts on make-up every day in front of a YouTube audience of middle age men (you might want to ask her). In truth, we lucked out with the first short, YouTube picked it up and had it in a premiere slot on their Film and Animation page which led to other outlets like EW's Pop Watch and Huff Post and Videogum posting it. Then we culled those contacts and basically just send around an email when a new short is out and pray that someone connects with it and posts it up. It doesn't hurt to have Zachary Quinto (who we created the Before After videos around) tweeting it and showing it to his friends. We ended up forming a partnership with him and his company, and now have that infrastructure to help out. I think analytics wise we see the biggest push on our end coming from Facebook and then twitter. But the real deals are done outside of our control. It all comes down to being fortunate enough that someone likes and then posts our videos. That's why I end every email now offering money and candy to anyone who will post our stuff.  *(editorial note: that's true)
You're making it sound too easy, tell me something that's difficult about putting PERIODS. together.
V: These shorts are designed to be crafted around what we have (and to not spend money). We have a park, a pond, a willow tree, and oregano; BAM! we now have FOREFATHERS. So nothing is too difficult concerning production because we do it all as a team within our means.
A: We are so lucky to have this incredible group that kind of blossomed up around us after we did the first film. And everyone's role in making the things evolves a bit with each film, which is fun. It's like a little creative family that comes together every few months and sacrifices their time to make something we can all be excited about.
V: We also have an amazing talent in our costumer, Dasha Martikainen. I think Anna and I both recognize the game we're playing as making Dasha happy. And the way to make Dasha happy? Esoteric period garb. So she gets to play, we get to play, and the actors get to smact. We also have probably some of the best shooters in the bizzle. As well as Giovanni P Autran and Charlie Porter who could edit your wedding video into a marquee feature. And of course our production partners Zach's Before The Door Pictures (who we made our feature with) and Scott Robinson to call in the egg sandwiches.
You can read the article HERE.